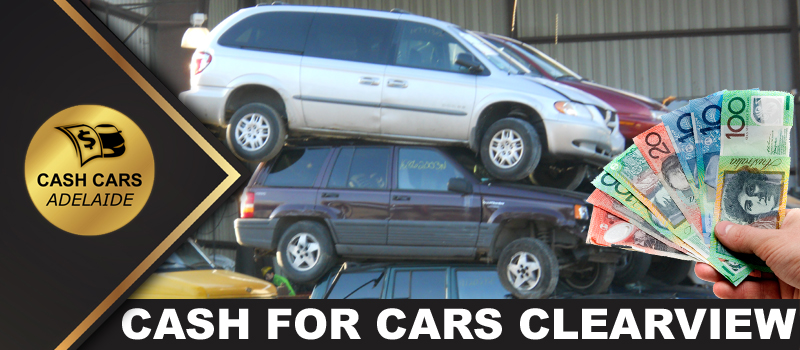 Top Cash for Unwanted Car Clearview – Up to $9,999
Are you searching for Cash for Cars services in Clearview? Then, you have stumbled onto the right page!! When an individual purchases a new vehicle then, all are on cloud nine because it will add more to the comfort and convenience and for as long as service term. But what if that vehicle becomes old, damaged, or scrap? After few years, every car becomes obsolete and a bit of a sour causing trouble. It may not function properly to the best of its capacity for many reasons. Apart from this, there might be hassles due to some wear and tear, accidental damage, or non-functional parts. In such a situation, people often want to get rid of it asap. Isn't it?
Need immediate cash for your unwanted vehicle? If yes then, Cash Cars Adelaide provides quick & doorstep cash to all scrap car owners across Clearview. The maximum cash is up to $9,999 but it entirely depends on the valuation quote of your car. Fill out our "Get A Quote" form and know the cash price of your old car instantly.
Free Car Removals over all Clearview Regions
Want unwanted car removal for cash near me? We have towing team trucks in almost all suburbs of Clearview. Just one phone-call of our client and our team reach out to the scheduled destination anywhere in Clearview. Moreover, we don't ask you to pay any extra hidden charges for walking extra miles. The entire services are transparent!! If you are juggling with any old car that is not serving your purpose any more then, it's time to let it go for top dollars.
Complete the following checklist before us coming to remove your vehicle:
The team of Clearview Used Car Buyer doesn't require your license plates. Therefore, you can remove it itself.
Make sure that the path to reach the vehicle for its towing must be hassle-free & clear
Don't forget to collect Photo Id With you
Cash for All Makes & Models Clearview
The firm is specialized in catering to all sorts of vehicles cars, trucks, minivans, Trucks or 4Wds, etc. One can cash for cars easily & hassle-free for all conditions of vehicles in Clearview – Scrap, Used, Old, Unwanted, Flood-Damaged, Accidental, or abandoned!! Even though, they are desperate to buy all brands of cars and never pick up the vehicle on the basis of its make & model.
The brands we often deal with are Kia, Audi, Ford, Isuzu, Hyundai, Mazda, Jeep, Suzuki, Mercedes, Holden, Toyota, Mitsubishi, Volvo, Acura, BMW, Volkswagen, Range Rover, and so on!!
We Buy and Recycle Following-
Accidental Damaged Trucks
Unwanted 4×4
Unregistered Vehicle
Flooded Cars
Hailstorm Damaged Vehicle
Burned Cars
Second-hand Cars
Accidental Damaged Trucks
Junked Autos
Smashed Buses & Trucks
Get Instant Cash for Even Worst Condition Cars Clearview Instantly!! Call at 0481294755!!
Get Online Quotes for Used Vehicle Right Away!!
For making the process simple & straight-forward for our clients, we offer quick online price quotes. Plus, we send our employees to your doorstep for assessing the car. Meeting and appointments for the assessment of the vehicle are scheduled as per your convenience & spare time. Moreover, our professionals have adequate qualifications and many years of experience in the dismantling & wrecking industry. Thus, don't worry about the safety & security of your car during its removal & assessment!!