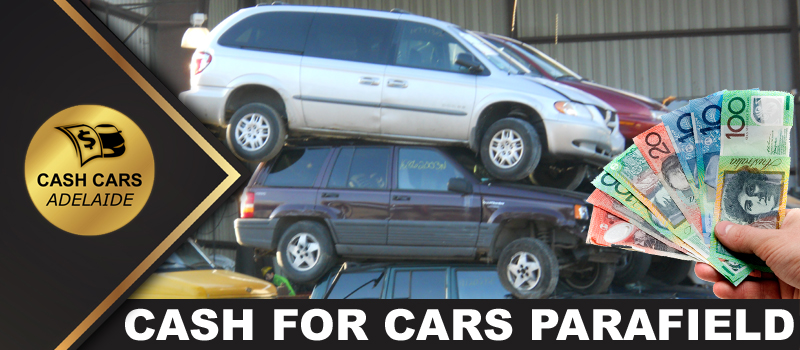 Sell Your Old Cars for Cash In Parafield – up to $8,999
Are you looking for cash for cars services in Parafield? Then, you have landed on the right page today. Call at 0481 294 755 & then Cash Cars Adelaide will be available for you. We are No.1 Parafield's used car buyer offering an excellent amount of cash up to $8,999. Apart from this, we also offer free old car removals in all suburbs of Parafield. This means that there is no requirement to visit our place of business. When you choose us, the process is going to be eco-friendly, hassle-free & as quick as possible. In fact, you can remove the car within 24 hours.
Why Choose Us?
Cash Cars Adelaide is a well-known established company with a legal license for buying wrecked, scrap, or immobile vehicles. We are having decades of experience in the used car buying industry and love to offer you speedy cash for any sort of vehicle. We value Our customers and stick to our words.
Genuine Quote on cars of every make and condition– Our team appraisers have years of experience who offer instant fare quotes for your scrap car based on the details of your vehicle. The accurate model, make, year, all accidental history and mileage covered up, all you need to disclose to us. The quote is obligation-free!! The ball is in your court…
Save Your Time Using Online Car Quotes– We never ask you to break out a schedule to visit our place of business. You can ask all the queries right from cash quote to schedule of towing overcall. It will save your precious time. What more could you ask for?
Get Speedy Cash Right at Your Doorstep– What's done is done, if you snooze, you lose!! If you want to get the top cash then, sell your car as soon as possible. Get cash right at your doorstep!!
Acceptance of All Makes, Models or Age– We would happy to buy all makes, models, or ages regardless of any damaged condition of your car. Adelaide cash for a car deal in all brands such as Holden, Toyota, Mitsubishi, Volvo, Acura, BMW, Volkswagen, Range Rover, Land Rover, and all others.
Unfortunately, you got the best cash for cars near Me Parafield, Hurry up grabs the opportunity by filling out the online form on our website.
Desired Cash for all Conditions of Vehicle In Parafield
No matter how much damaged or wrecked your car is, we'll come to your place & pay you the desired dollars. That's it. But if your car is in good condition, you have probably a high chance of making huge profits out of it. It's a kind of win-win situation for you. Let's check out the conditions that we usually deal in i.e.
Second-Hand Cars
Written Off Cars for cash
Damaged car
Truck wreckers
Used Cars
Unregistered Cars
Wrecked cars
Flood-Damaged Vehicles
Registered or Unregistered
Junk Cars
Cash for unwanted cars
Unroadworthy Vehicles
Top Cash for Rusted Cars Bodies Parafield
How does It work?
Our Entire process is straightforward and as easy as ABC. When we come to you to pick up your car, we come with free paperwork and you only need to sign those papers. Let's go down more to the process-
Call us Today- Call us at 0481 294 755 or inquire through our" Get Quote Now"!! In our free online valuation, you will get to know the worth of your used car. Make sure to have accuracy in your details for a fair cash quote.
Accept our offer- Agree upon our offer? If yes then, accept our cash quote and we'll schedule free car removals anywhere in Adelaide. You can reschedule your towing of the car in an emergency.
Get Paid on Same Day- We pay top cash on the same day of removal. Are you ready to sell your car? Let's talk to our experts at the drop of a hat.
Ready to get Cash for Your Cars In Parafield? Get In Touch with Right Away!!