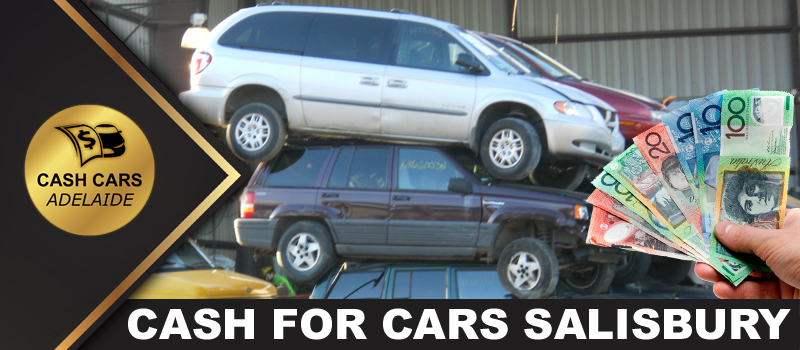 Best Cash for Damaged, Scrap, Broken & Unwanted Cars In Salisbury
Do you have a scrap or unwanted car sitting useless in the driveway? You can turn this outdated car into cash quickly with Cash Cars Adelaide. We pay top Cash for Cars Salisbury up to $9,999 regardless of any condition. To sell your vehicle for an excellent amount, call now 0481 294 755!! Along with decent dollars, you also get free car removals right at your location Salisbury wide. Free paperwork services are another icing on the cake; however, you will be served well beyond your expectations. That's our 100% satisfaction!! Get Cash easily for your scrap car today with us…
How Much is My Scrap Car Worth?
Call Us Today– Call us at 0481 294 755 or inquire through our "Get Quote Now"!! In our free online valuation, you will get to know the worth of your used car. Make sure to have accuracy in your details for a fair cash quote.
Accept our offer– Agree upon our offer? If yes then, accept our cash quote and we'll schedule free car removals anywhere in Adelaide. You can reschedule your towing of the car in an emergency.
Get Paid on Same Day– We pay top cash on the same day of removal. Are you ready to sell your car? Let's talk to our experts at the drop of a hat.
Get Highest Possible Cash by Dismantling Your Broken Car Salisbury
Once you approve the price quote, we'll tow away your vehicle, even if it's unroadworthy or accidental damaged. Our team will not ask a single penny for this service. We are widely appreciated by Salisbury's people for on-the-spot payments and Free Green Car Dismantling. This is the reason we have been ahead of our competitors throughout Salisbury. In addition, we have a skilled and experienced in-house team who know all ins & outs of this industry. We also have advance tools and equipment that allow us to offer safe and secure wrecking services. We are considered as the leading Cash for Cars near me Salisbury accepting all brands of cars i.e.
Japanese – Subaru, Honda, Suzuki, Mitsubishi, Nissan, Mazda
Korean– Hyundai, Kia, Daewoo, Ssang Yong
American– Ford, Buick, Chrysler, Cadillac, Dodge, Jeep, Holden
European– BMW, Volkswagen, Mercedes, Peugeot, Audi, Saab
What Makes Us The Leading Car For Cash Service Provider?
Save Your Time Using Online Car Quotes-
We never ask you to break out a schedule to visit our place of business. You can ask all the queries right from cash quote to schedule of towing overcall. It will save you precious time. What more could you ask for?
Get Speedy Cash Right at Your Doorstep-
What's done is done, if you snooze, you lose!! If you want to get the top cash then, sell your car as soon as possible. Get cash right at your doorstep!!
Acceptance of All Makes, Models, or Age-
We would happy to buy all makes, models, or ages regardless of any damaged condition of your car. Adelaide cash for a car deal in all brands such as Holden, Toyota, Mitsubishi, Volvo, Acura, BMW, Volkswagen, Range Rover, Land Rover, and all others.
Genuine Cash for Cars Salisbury Quote –
Our team appraisers have years of experience who offer instant fare quotes for your scrap car based on the details of your vehicle. The accurate model, make, year, all accidental history, and mileage covered up, all you need to disclose to us. The quote is obligation-free!! The ball is in your court…