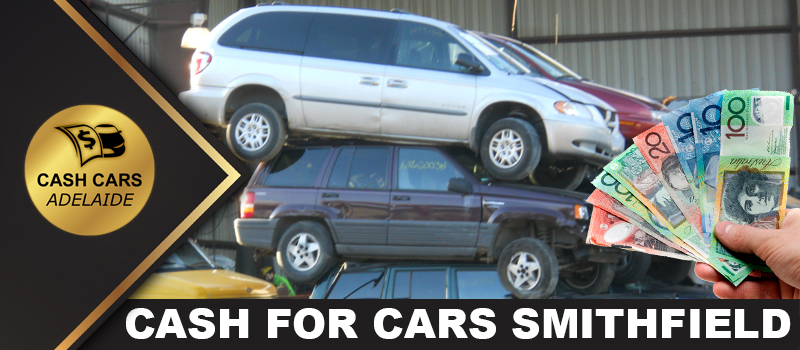 Top Cash for Cars Smithfield- Up to $8,999
Are you finding yourself in the tedious situation of either keeping cars in a garage or selling them off? You might be planning to keep an old car in the driveway due to not having the excellent deal. Isn't it? But don't worry as you can sell it online to Cash Cars Company in Smithfield, Adelaide. We pay the best cash amount up to $8,999 regardless of any make or model instantly. It's going to be doorstep cash that will put you on cloud nine. We have the latest equipment and expertise to get the maximum value for your car through dismantling & recycling.
Give us a call on 0481 294 755.
Free Car Removals all over Smithfield Suburbs
In Smithfield, our team is offering free cash for cars removal in all suburbs no matter how far your car is from us. We'll come to your location anywhere in Smithfield. This way, you can remove an unroadworthy vehicle or a car that is completely damaged in no time. If you are interested in our vehicle removal services, fill out our online enquiry form. We'll back to you shortly.
In addition to this, we offer free paperwork services required to sell any vehicle. That means all the responsibilities will be managed by our team. What more could you ask for?
We Buy all Makes & Models In Smithfield
Mitsubishi: Challenger, Chariot, Colt, Lancer, Cedia, FTO, GTO, Pajero, Mirage.
Nissan: Avenir, Bluebird, Elgrand, Homy, Primera, Presea, Pulsar, Safari, Skyline, Silvia, Stagea, Sunny, Serena.
Audi: A3, A4,
BMW: 316i, 318i, 320i, 520i, 525i, 720i, 725i, 728i.
Subaru: Petrol or diesel, Legacy, Impreza, WRX, Forester.
Suzuki: Cultus, Carry, Escudo, Swift.
Volkswagen: Beetle, Golf, Polo.
Volvo: V40, V50, V60, V70, V80.
Ford: Trucks, transit, Courir, Explora, Escot, Escap, Falcon, Festiva.
How Does It Work?
Call us Today– Call us at 0481 294 755 or inquire through our" Get Quote Now"!! In our free online valuation, you will get to know the worth of your used car. Make sure to have accuracy in your details for a fair cash quote.
Accept our offer– Agree upon our offer? If yes then, accept our cash quote and we'll schedule free car removals anywhere in Adelaide. You can reschedule your towing of the car in an emergency.
Get Dollars on Same Day– We pay top cash on the same day of removal. Are you ready to sell your car? Let's talk to our experts at the drop of a hat.
Benefits of Getting Cash for Old Cars Services Smithfield
Cash Cars Adelaide is a well-known established company with a legal license for buying wrecked, scrap, or immobile vehicles. We are having decades of experience in the used car buying industry and love to offer you speedy cash for any sort of vehicle. Our cash for cars team values their customers and stick to our words in Smithfield.
Genuine Quote on cars of every make and condition– Our team appraisers have years of experience who offer instant fare quotes for your scrap car based on the details of your vehicle. The accurate model, make, year, all accidental history and mileage covered up, all you need to disclose to us. The quote is obligation-free!! The ball is in your court…
Save Your Time Using Online Car Quotes– We never ask you to break out a schedule to visit our place of business. You can ask all the queries right from cash quote to schedule of towing overcall. It will save your precious time. What more could you ask for?
Get Speedy Cash Right at Your Doorstep– What's done is done, if you snooze, you lose!! If you want to get the top cash then, sell your car as soon as possible. Get cash right at your doorstep!!
Acceptance of All Makes, Models or Age– We would happy to buy all makes, models, or ages regardless of any damaged condition of your car. Adelaide cash for a car deals in all brands such as Holden, Toyota, Mitsubishi, Volvo, Acura, BMW, Volkswagen, Range Rover, Land Rover, and all others.